Welcome to the Stardom: The A-List Wiki!
This is a fan-made site with no association to Glu Games Inc.
Anyone can contribute to the Stardom: The A-List Wiki!
Learn how to at our Community Portal.

Stardom: The A-List is a casual game created by Glu Games Inc. and Blammo Games Inc. for iOS and Android. It can be downloaded from the Apple App Store and Google Play Store for free and played on the iOS 4.0+ and Android 2.1+.
---
---
---
Stardom: The A-List was released in December 2011 and uses the freemium business model. Although the game is free to play, players can use their iTunes or Google Play accounts to make in-game purchases of game currency to buy special items or to make the gameplay easier.
Stardom: The A-List uses Apple, Inc.'s Game Center and Facebook to allow players to add friends to co-star with, date, or send gifts to.
Resources
Admin Notes
This is a wiki about the Stardom: The A-List app! Anyone can help, but please add honest information!! If you tamper with the site in any way, shape, or form, you will be blocked. ANY sort of vandalism stated in Wikia's Terms of Use will be blocked, no exceptions. We want to keep this an awesome wiki and any unacceptable or unnecessary actions or edits will not be tolerated.

P.S. – We are currently on hiatus for this wiki. We are definitely coming back here but for now we are focusing on our other wikis that host the current Stardom games. Thanks for your understanding!

Starnews
---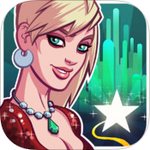 Version 2.1.6 - 27 February, 2013

▶ Charlene knows what fans want: get her insight into what's hot, and do what she says to earn free bonus stars!
▶ Oz is coming... starting Wednesday March 6th, work with your agent on Oz-themed movies – finish by Sunday the 11th to earn free Oz-themed clothing! (Starlets can even get Toto!)
▶ Level 30 added
▶ Bug fixes and improvements

---
Note: Do not expect any more updates for this game from glu.
---

Want more Stardom? Check out the latest Stardom adventure in Stardom: Hollywood!
---
Thanks for contributing to the wiki! :)


OneStormyNight
SamuraiPizzaCat

Featured Film
---
"

Casino Skyrise

It's a shame I have to shut your casino down, Shifra; I was on a hot streak.

It appears that baccarat isn't your game... maybe you should try poker.

"

— Hills Movie Studio 

Polls and Voting
---
What is your favorite location in Stardom: The A-List?
Community content is available under
CC-BY-SA
unless otherwise noted.